We are lucky enough to find our school located right in the middle of the so called Triangulo del Arte, or golden triangle of art. Yes, it's a bit of a touristy name, but you have to admit it has a catchy ring to it. The reason the triangle has been given this name is that the three most important museums of the city are a few minutes from each other (and from Cronopios Idiomas): Prado Museum, Reina Sofia and Thyssen-Bornemisza.
To start off with, if you're taking afternoon classes at Cronopios Idiomas and you come out thinking 'I could really do with seeing some of the greatest works of art in the world for free, and I want to walk less than 200 meters!', well then you're in luck because the Prado museum, which hosts paintings by the likes of Francisco Goya, Hieronymus Bosch, Rubens, Titian, Velázquez, Rafael, Albrecht Duerer and so on, opens its doors to visitors for free every weekday between 6 and 8 pm.
If you've seen all the 1500 works of art the building houses, or if you want to see some world class modern and contemporary art instead, with a tiny bit more effort you can walk to the Reina Sofia museum in 5 minutes where you can completely sate yourself on its collections of two of the masters of 20th century Spanish art, Salvador Dalí and Pablo Picasso, with as highlight Picasso's overwhelming work Guernica. Free entrance is possible on mondays between 7 and 9 pm, as well as from Wednesdays to Saturdays at the same hours.
Not enough you say? More masterpieces spanning the 14th to the 20th century? More Impressionism, as you won't find that in the other two museums, with works from Monet, Renoir, Gauguin, Cézanne, and Vincent van Gogh? Well your luck still hasn't run out, the Thyssen-Bornemisza Museum, a couple of minutes further north from the Prado has all this and over a thousand other works as well. Here also there are hours when entrance is free, better for those taking morning classes; on mondays between 12 and 4 pm.
And, in addition to these three temples of art, we also have very close to us other cultural centers that we recommend our students to visit. For instance, the school finds itself directly facing the lovely Retiro park, which houses the Palacio de Velázquez and Palacio de Cristal where you can find temporary modern art exhibitions which are always accessible without charge. I could go on and tell you how cool the Tabacalera in Lavapies is for instance, but you get the point, if you think learning a language should go hand in hand with discovering culture then here you're exactly in the right place!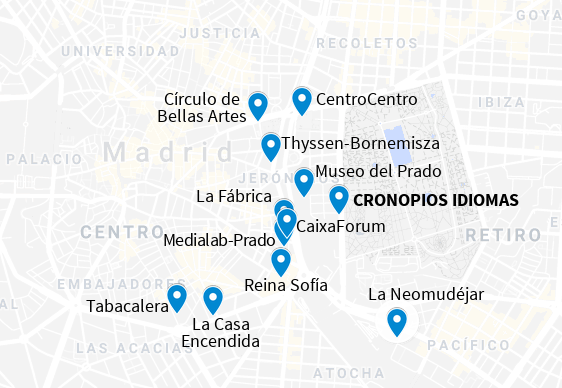 https://cronopiosidiomas.com/wp-content/uploads/2019/03/museos_madrid.png
388
562
Cronopios Idiomas
https://cronopiosidiomas.com/wp-content/uploads/2018/04/Logo_web_morado3.png
Cronopios Idiomas
2019-03-15 11:38:16
2019-06-27 14:56:52
Our school is surrounded by art