Some of our students come to our Spanish school by bicycle. Madrid has its own public bicycle scheme called biciMAD, it's not particularly expensive, but more for incidental use, and it's not always easy for foreigners to use because of registration issues and accepting foreign bank cards. Instead getting a second hand bike is your best bet, there are a range of shops in town, often cheapest is to use a website like eBay or Wallapop.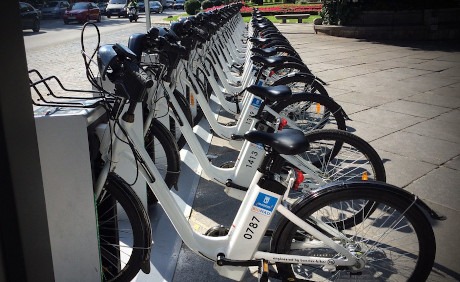 Admittedly cycling in Madrid is not ideal if you live further afield because of the heavy traffic in the large multi lane roads between the 'manzanas', but in the centre it's actually very useful, better than public transport because of the narrow streets and the unevenly distributed metro routes.
One really nice thing to try is the bike route along the river, where there used to be a highway there is now a lovely park, with a great bike path! Cycle along the river down south and visit one of Madrid's most overlooked attractions, the amazing Matadero centre.
Trying to be trendy and having a fixie or an old Dutch style bike is not the most practical for cycling in Madrid, to take on the hills and valleys that do exist around town make sure you get one with a good number of gears, more than 3 at least. In terms of economics, if you ride your bike every day to the school, and perhaps a couple of further trips on the weekends instead of using public transport, and you have paid 150 Euro for a decent bike, then after a couple of months you will have already recuperated your investment. The pay-off though in terms of exercise, experiencing street life, and generating loads of happy brain chemicals is of course priceless!
https://cronopiosidiomas.com/wp-content/uploads/2021/03/Spanish-school-by-bicycle.jpg
320
480
Cronopios Idiomas
https://cronopiosidiomas.com/wp-content/uploads/2018/04/Logo_web_morado3.png
Cronopios Idiomas
2021-03-11 14:12:24
2021-03-11 14:15:36
Come to our Spanish school by bicycle