Join the club. Learn Spanish, a truly global language, only beaten by English and Chinese in numbers of speakers. A gateway to communication with half a billion people, to a massive range of cultures, to a different state of mind. Very well, you will be asking yourself where? Well, Spain obviously. Why? Here in this article, we are going to make the case that your best bet is definitely to learn Spanish in Madrid. Here you have 5 reasons to learn Spanish in Madrid:
1. WHY SPAIN
You might firstly want to take note that according to the HSBC global survey taken in 2019 was ranked as the fourth most desirable place to live in the world. With quality of life and the weather being reasons people gave for scoring Spain so highly, another thing that stands out is that the other countries in this list are much more expensive to live in, places like Switzerland, Canada and Singapore. Conclusion: Spain, the good life, yet affordable.
Secondly, if you're coming from Europe, then going to Spain is easier to organise, being part of the EU, and cheaper, than crossing the ocean to Latin America. If you're coming from further afield, then consider that from here Europe lies at your doorstep, once in the EU you can easily visit places like France, Portugal and Italy by train or use this as a starting point for inter-railing. If you're considering Latin America, you might want to be mindful of regional differences in language, Spanish from Spain is internationally the most recognised and easily understood.
Alright then, why Madrid? To start off with because visitors consistently rank it as highly satisfying, Lonely Planet for instance puts Madrid in second place in 2019 for best place to visit in Europe. In the same vein Time Out magazine picked one of Madrid's centre neighbourhoods as the "coolest place in the world".
2. LOCATION
Another reason for choosing Madrid is that it's the perfect base for visiting the rest of the country as it's geographically pretty much in the centre.
From here you can go on many day trips, just using the cheap and regular local train network Cercania, you can e.g. visit the birthplace of Cervantes Alcala de Henares, or the mountain village Cercedilla.
A bit further afield with the main rail network RENFE you'll be able to go on day trips to places like Toledo, Segovia, Avila and Salamanca. If you don't mind paying a bit more you can use the AVE, the high speed train which can also get you within an hour to places like the amazing Cuenca.
3. CULTURE
Obviously, this is the capital of Spain, and not just any old capital "Madrid is Europe's sunniest capital, with over 300 days of sunshine per year," and it is where all of Spain's varieties of culture can be found in one place.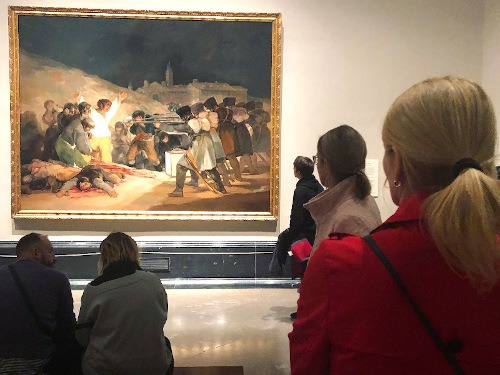 But also, within a couple of hundred meters from Cronopios Idiomas you will already find the Prado museum, one of Europe's greatest classical art museums, think Louvre but with better weather and shorter queues. A few minutes further away, you'll find the Thyssen-Bornemiza museum and if you want to overdose on Dali and Picasso there is the Reina Sofia museum just 5 minutes walk from the school. There are dozens of other museums , loads and loads of art galleries (just go to Doctor Fourquet Street in Lavapies which is lined with them) In fact, go to Lavapies anyway, just to see this wonderful neighbourhood before it's transformed too much by developers.
4. PEOPLE
Spaniards have flocked to live in Madrid throughout its existence. There are very few true Madrileans, or 'gatos', people whose roots go back for centuries here. There has been a great deal of migration to this city over time which can be seen in the sheer number of bars from different regions of Spain.
Just near the school you can find a bar with a Asturias theme, a Galicia theme, an Estremadura theme and so on. What this also attests to is that it is every Spaniard's dream to open a bar one day, and many of them clearly succeed. As the saying goes, nobody is from Madrid, therefore everybody can be from Madrid. And for that reason people really are very welcoming, whether in their local bar or in other situations.
5. FOOD
One of the biggest reasons you might also consider coming here is the food. You might find similar quality in Barcelona, but the variety at prices that just can't be beat in other cities. As said, Madrid is the city where people from everywhere else in Spain have moved to over time, and consistently people from the regions have brought their cuisine with them and have opened restaurants and bars serving dishes from back home.
This makes it possible to sample all of the traditional cooking of every region of Spain without having to leave the city, often even the neighbourhood. Another thing to watch out for is that there are still places that hand out generous free tapas with every drink that you order, just search online for lists of places. This often comes as a surprise to visitors but it is perfectly possible to eat your fill for free just by ordering a few rounds of drinks.
All things considered we hope we've made the point here that to learn Spanish in Madrid, is in many ways an excellent idea!
https://cronopiosidiomas.com/wp-content/uploads/2021/05/home-5-reasons-to-learn-Spanish-in-Madrid.png
320
480
Cronopios Idiomas
https://cronopiosidiomas.com/wp-content/uploads/2018/04/Logo_web_morado3.png
Cronopios Idiomas
2021-05-12 14:29:05
2021-05-12 16:48:46
5 reasons to learn Spanish in Madrid